An interesting and engaging story, that could have been told in much less time and still been just as effective.
Certificate: 15
Director: Ramin Bahrani
Screenwriter: Ramin Bahrani
Starring: Priyanka Chopra, Rajkummar Rao, Adarsh Gourav
Genre: Crime, Drama
Runtime: 125 Minutes
Language: English
Rating: 3 Stars
Reviewed by: Pearl
Balram Halwai (Adarsh Gourav) narrates his epic and darkly humorous rise from poor villager to successful entrepreneur in modern India. Cunning and ambitious, our young hero jockeys his way into becoming a driver for Ashok (Rajkumar Rao) and Pinky (Priyanka Chopra-Jonas), who have just returned from America. Society has trained Balram to be one thing – a servant – so he makes himself indispensable to his rich masters. But after a night of betrayal, he realizes the corrupt lengths they will go to trap him and save themselves. On the verge of losing everything, Balram rebels against a rigged and unequal system to rise up and become a new kind of master. Written by Netflix
For the first forty-five minutes or so I was really hopeful that this was going to be a great film.  The narration was snappy and darkly funny at times, even if I am not always a fan of narration in films.  The main character had an interesting story to tell and there was a great cast of side characters as well.  I was all set to love this film.  Sadly though it lost me in the middle.  The fast pace and snappy editing disappeared and while I loved following our main characters, I was disappointed we never found out more about the side characters.  They served more as props to further the main story than anything else.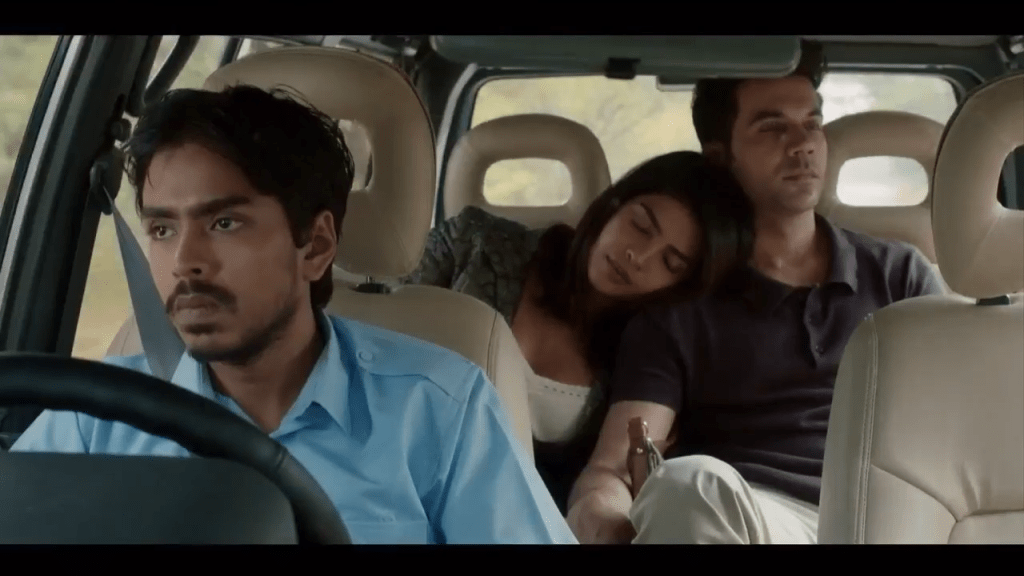 Gourav plays Balram, our main character and his back must be killing him after holding up this film basically on his own for the entire run-time. Sure the supporting performances by Chopra-Jonas and Rao are pretty good, and I love the dynamic between the three of them, but it really is Balram's show. The tory is driven forward by his story and his incredibly well written character arc, even if the film does take a damn long time to do so. The rag-s to riches story isn't exactly a new plot device, and we know very early on that Balram has made some questionable decisions in order to end up where he is. I am never a fan of a film that gives away it's ending right at the beginning, it takes away the mystery, and here we have to wait so long to hear the story, that by the end, I no longer really cared to hear it.
The film isn't afraid to give a scathing commentary on the class/caste system in India, and about the struggles that still go on there, it is the undercurrent of the whole film. If those kinds of stories are the kind that you enjoy, then this film is definitely for you. But for me it took way too long to get to it's point.
'The White Tiger' is streaming now on Netflix.