This is the episode I was most looking forward to!  The crazy comic accurate costumes, the creepy scene with Agnes, so much to be excited for!
Certificate: 12
Director: Matt Shakman
Screenwriter: Jac Schaeffer, Cameron Squires
Starring: Elizabeth Olsen, Paul Bettany, Kathryn Hahn
Genre: Adventure, Comedy, MCU
Runtime: 35 mins
Language: English
Rating: 4 Stars
Reviewed by: Pearl
REVIEW MAY CONTAINS MINOR SPOILERS!!
It is Halloween in Westview and the Maximoff Family are going all out! In comic accurate costumes no less. And while Wanda wants them all to enjoy the season together, her relationship with Vision is getting more and more strained after the events of last week. On the S.W.O.R.D base Monica, Jimmy and Darcy launch their own investigation and after vision gets a little too close to the boundary, Wanda does something drastic to save him that will have huge consequences.
And the mystery keeps on building. While we start to see hints of answers in this episode, there is still so much that we don't know. Darcy seems to be on the verge of uncovering something major about S.W.O.R.D but events at the end of the episode mean that we will likely not be seeing what that is for quite a while. With only three episode left we still seem to have a lot of mystery to unpack and not a lot of time to do it in. This further supports my theory that this story will not be fully wrapped up in this series, but carry over into Spiderman and Doctor Strange before we get a full resolution.
Elizabeth Olsen continues to give a fantastic performance, and the further the story goes along, and the more Wanda's reality starts to crack, the better her performances become.  Her acting opposite Evan Peters in this episode was great.  The two of them having a good amount of Banter even if neither of them really knows what he is doing there.  There seems to be some doubt as to whether he is who he says he is and I think that is something we will be diving into later in the series as well.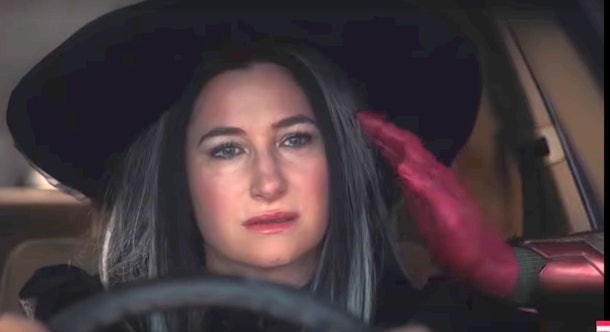 The stand out scene though was definitely between Paul Bettany and Kathryn Hahn. It was unsettling and creepy, perfect for the Halloween episode. The whole environment on the outskirts of the town was like something out of a horror movie and I was rivetted. Some interesting revelations are revealed during Vision's talk with Agnes, just little snippets that imply that absolutely nothing is what we think. Even Vision himself.
I don't think this was one of the series strongest episodes, but there are one or two scenes that will definitely be sticking with me and it has got me biting my nails in anticipation of next weeks episode. The 90s setting of this week brings us nearly up to date. An ear we haven't seen much of in promos, so I think big things are on the horizon!
Please do not leave any spoiler content in the comments if you wish to discuss this weeks episode, I am happy to chat about it with anyone via twitter DMs etc, but please, not direct spoilers out in the open. You wouldn't want it spoiled for you, don't spoil it for someone else.
Thanks
TT