A Hindi remake of the 2016 Movie of the same name featuring Emily Blunt…which did everything better.
Certificate: 15
Director: Ribhu Dasgupta
Screenwriter: Ribhu Dasgupta
Starring: Aditi Rao Hydari, Parineeti Chopra, Kirti Kulhari
Genre: Crime, Drama
Runtime: 120 Minutes
Language: Hindi
Rating: 2 Stars
Reviewed by: Pearl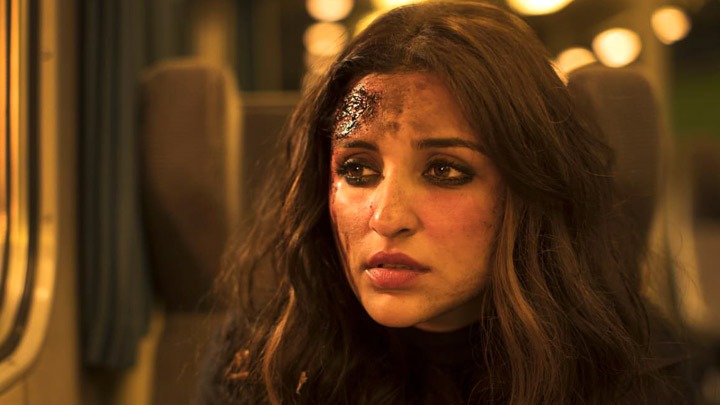 An alcoholic divorcee takes the train daily to work which passes by a house she lived in and one day when something bad happens, she decides to investigate and become entangled in the process which surely makes her discover about her life and changes her. – From IMDB
I am a huge fan of the book that is the original source material for both the original 2016 version of this film starring Emily Blunt and this Hindi version that just released on Netflix. An unreliable narrator is always a good tool to utilise in storytelling, as it keeps your audience on their toes the entire time because they know that they are not getting the full truth.
That idea is used well here too, Mira's alcoholism and amnesia mean that you are never entirely certain what is going on and it stops you from ever being too sure what is going on, a good thing most of the time with thrillers. The idea being that when the other shoe finally drops and we get that big reveal we are all the more shocked because we really didn't see it coming. The problem wasn't with the plot, or the execution of the story. But rather with basically everything else. We have seen this story already, granted this one approaches certain things differently as to not be to similar to the original version, so we know it will keep us hooked the whole time. I just disliked nearly every other element of this film.
The weird hybridisation of Bollywood and Hollywood style films was jarring and I couldn't get on with it. This film would have benefitted so much more from it actually being set in India, rather than in London. The writing and dialogue at times was truly awful, and while the actors do the best they can with what they are given, the performances are affected.
Almost everyone in the film is little more than average, with very few of them really given enough material to really be able to get into the roles and stretch their acting muscles at all. Chopra is a capable leading lady, but at times struggles to deliver a winning performance. A bit of a disappointment all round