Certificate: 15
Director: Clare Kilner
Screenwriter: Josh Friedman, Graeme Manson
Starring: Jennifer Connelly, Daveed Diggs, Sean Bean
Genre: Sci Fi, Drama
Runtime: 45 Minutes
Rating: 4 Stars
Reviewed by: Pearl
As the train approaches Melanie's retrieval point, Layton leads a furious attempt to try and pick her up but not without some sacrifices. – From IMDB
In a way I am sad that the best two episodes of this entire season are the ones that they left right for the end, and in a way, it's a genius move. Leaving us with a great sense of anticipation for what is to come, and using the eight episodes prior to this double episode finale to build the appropriate amount of dread and mistrust. Of the back of that I would like to address the fact that these last two episodes had Sinister and Creepy by the butt load. Sean Bean is truly scary and the atmosphere that the talented cast of actors were able to create was amazing.
While I have been criticising the earlier episodes in the season of being a little to light on action, these two episodes packed it in by the truckload.  There was barely a slow moment, or a scene where something wasn't happening.  And while I wish that action could have been more equally spread throughout the season, and there were certain storylines I wish had longer to develop, It did make for a great and heart pounding finale.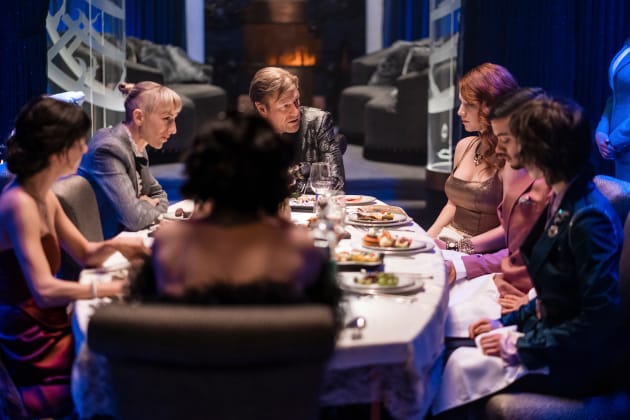 I may not always agree with the writing choices in this show, but they sure do know how to write a great cliff-hanger. This one, much like the one at the end of season one, has left us hanging after a yet another big plot reveal, only to have wait a year to get the answers that we need. I feel like there are a lot of things that we still need answers for, and a lot of storys that have been set up and not given the time that they needed to come to fruition. Miss Audrey's story and Ruth's character development were both interesting enough, but to me lacked the depth needed to do them justice. Zarah's character seems to have a purpose or a storyline waiting to happen, but she never quite gets the spotlight she deserved, and I imagine we are not done with Josie's story either. As IMDB only has this show listed for one more season, this seems like a lot of wrapping up to do in one more run, including whatever main storyline they choose to pursue in season three.
This was a belter of an ending, and one that has revitalised by dwindling love for the show, I can't wait to see what we have in store next season.
'Snowpiercer' complete seasons 1 and 2 are now available on Netflix.