Certificate: 12
Director: Kari Skogland
Screenwriter: Malcolm Spellman
Starring: Anthony Mackie, Sebastian Stan, Wyatt Russell
Genre: Action, Adventure, MCU
Runtime: 50 mins
Language: English
Rating: 4 Stars
Reviewed by: Pearl
This Review may contain Minor Spoilers!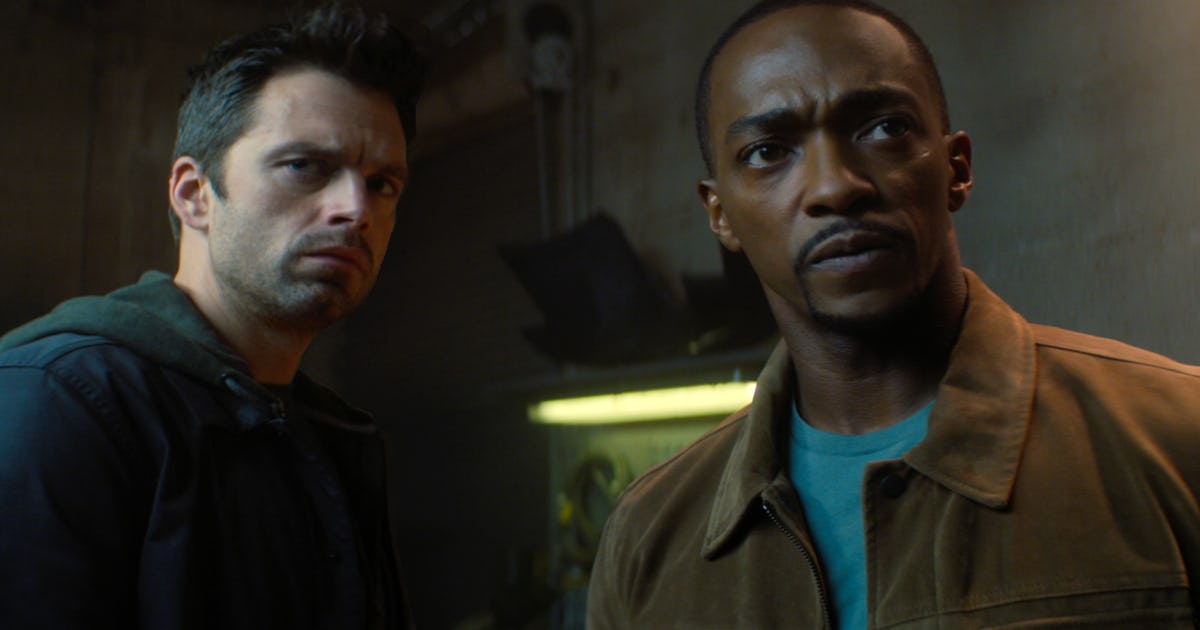 Enlisting the help of Baron Zemo, Sam and Bucky head to criminal safe haven Madripoor on the trail of a scientist responsible for recreating the super soldier serum. While there, they run into an old ally.
We have arrived at the halfway point of the show and a lot of things happened this week for sure that are going to have repercussions later in the series. There seems to almost be too many plot threads to be easily wrapped up in the next three episodes, but as this project is meant to feed into three separate future projects in the MCU, it is feasible that they are going to use this as a means to set up those storylines.
It was great to see some familiar faces return this week.  Daniel Bruhl returns again as Baron Zemo, and this time around we get to see more of his personality and earn more about his backstory outside of the one track mind he had in Civil War.  He has some great interactions with Bucky and Sam and adds a nice kind of grey morality to the team, he is truly prepared to do whatever it takes to achieve the goals, while Sam is a lot more straight laced about his approach, which is bound to create more friction as the series goes forward.  Sharon Carter also makes her return this episode.  And while she has never been my favourite character, I like her a lot more for the development that her character has gone through.  She is a lot tougher and hands on now than she was.  I hope we get to see her return later in the show.
We see very little of John Walker in this episode, but what we do see does start to imply that the power and responsibility are beginning to take a toll on him. He is about as far from Steve Rogers as he can get right now, and it's interesting to see how all the other characters in the MCU are reacting to him. I think there is still a lot more to come from his character in this show, and that the break down of those core Captain America values is going to continue.
The setting of Madripoor was stunning, especially the long shots and it's great to see yet another famous comic location come to the screen. The mysterious 'Powerbroker' in charge of the city is clearly in the running to be the big bad of this show, and potentially future projects. Reading up on him this morning I have formed a few theories based on storylines he has been included in, but to avoid spoilers, will keep them to myself for now. I don't believe however he will be a character that we have met before, instead the introduction of a new villain.
Another stellar episode. I am loving the more thriller type feeling to this show, where the characters just happen to have super powers, rather than the pow-pow, blow stuff up type of thing we usually get in CBMs. Can't believe we are already halfway through the series though.
'The Falcon and the Winter Solider' is streaming on Disney+ Now.
Please do not leave any spoiler content in the comments if you wish to discuss this weeks episode, I am happy to chat about it with anyone via twitter DMs etc, but please, not direct spoilers out in the open. You wouldn't want it spoiled for you, don't spoil it for someone else.
Thanks
TT