Certificate: 12
Director: Kari Skogland
Screenwriter: Malcolm Spellman
Starring: Anthony Mackie, Sebastian Stan, Wyatt Russell
Genre: Action, Adventure, MCU
Runtime: 50 mins
Language: English
Rating: 4.5 Stars
Reviewed by: Pearl
This Review may contain Minor Spoilers!
John Walker loses patience with Sam and Bucky as they learn more about Karli Morgenthau. – From IMDB
Well…this was a real stand out episode wasn't it. The action was balls to the wall the entire time. How many action sequences did they even have in this episode? They were all amazingly shot, really well choreographed and overall just fantastic to look at. But there was a lot more going on in this episode than just the action.
Throughout this episode we get a lot of discussion about the super soldier serum, and whether the power that comes with it corrupts people.  And this episode makes a really good case that it does.  We see Karli struggling to make the right choices, the conversations she has with Sam about Power and corruption are really great moments in this episode.  It's not heart pounding action, but it carries a lot more weight, and gives us an insight into Sam's mindset, and humanises Karli a little more as well.  And most of all we see John Walker struggling with the power he has been given, the responsibility that comes with it.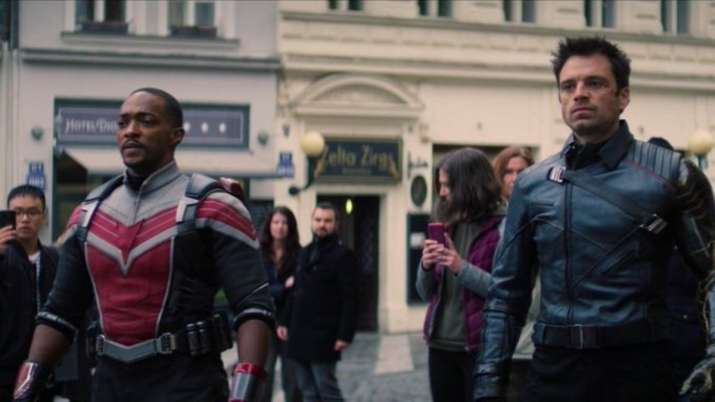 John Walker does take more centre stage in this episode than he does in previous episode. He has some real powerful moments and Wyatt Russel gives one hell of a performance. Slowly becoming more and more unstable as the episode goes on and ending in that last amazing shot of the episode. What a doozy to end on. And shot very similar to the fight scene at the end of Civil War where Cap uses the shield to smash the arc reactor in Tony's Iron Man suit.
As well as an emotional end, this episode also had quite the emotional beginning, flashing back to Bucky and his rehabilitation in Wakanda, helping to explain the presence of the Dora Milaje. May have teared up a little, not gonna lie.
This has been by far my favourite episode of the shoe so far and with only two episodes left, I cannot wait to see what they have up their sleeves next.
'The Falcon and the Winter Solider' is streaming on Disney+ Now.
Please do not leave any spoiler content in the comments if you wish to discuss this weeks episode, I am happy to chat about it with anyone via twitter DMs etc, but please, not direct spoilers out in the open. You wouldn't want it spoiled for you, don't spoil it for someone else.
Thanks
TT