Certificate: PG
Director: Jim Abrahams, David Zucker, Jerry Zucker
Screenwriter: Jim Abrahams, David Zucker, Jerry Zucker
Starring: Robert Hays, Julie Hagerty, Leslie Nielsen
Genre: Comedy
Runtime: 88 Minutes
Language: English
Rating: 3.5 Stars
Reviewed by: Pearl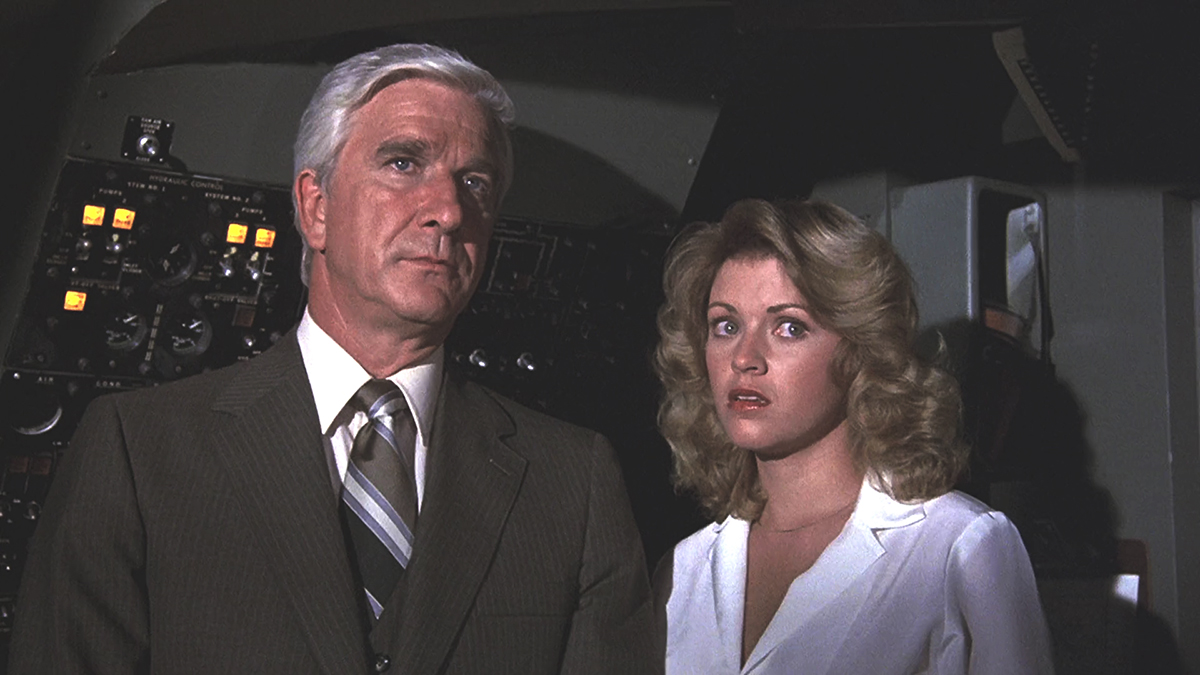 Drowning his sorrows after that botched mission during WWII, the traumatised former fighter pilot with a fear of flying, Ted Striker, still hasn't got over his old flame and flight attendant, Elaine Dickinson. Determined to win her back, Ted boards a domestic flight from Los Angeles to Chicago, only to come face-to-face with a severe case of in-flight food poisoning that is threatening everyone's lives. Now, with most of the passengers and the entire cockpit crew down with the food-borne illness, Striker has no other choice but to confront his inner demons and take over the control of the ungovernable aircraft with the help of a gruff air-traffic controller and his former commander. – From IMDB
Oh the things you could get away with putting in a PG film back in the eighties.  No way would we get away with this kind of thing now.  Boobs, violence, drugs, sexual innuendo, suicide, just about everything.  But it's OK, because it was the eighties.  Apparently also OK in the eighties were rampant racial stereotypes, and racial slurring, so those jokes seem ridiculously offensive nowadays, so just be warned that they don't hold back on the offensive humour before you go into this. 
The eighties were chock full of spoof movies, and movies that were really self-aware of how ridiculous they were, and this is one of the more famous ones, and one of the ones that has more or less stood the test of time. As mentioned above, some of the jokes would be completely unacceptable by today's standards, but this film still has some of the most memorable lines from 80s films, and the poster is one of the most recognisable from it's time.
I can only imagine being on set for the filming of this movie, how hard it must have been to deliver some of these lines with a straight face to give the deadpan comedy that this film is known for. For the most part the writing is pretty ingenious, even if it does feel like a lot of the jokes really were shoehorned in there at the expense of really any real plot of character work at all. It isn't my favourite brand of comedy, as we all know by now comedy isn't really my wheelhouse, but it does get a few chuckles out of me.
An 80s classic that should be seen at least once by everyone, but particularly those who love comedy.