Certificate: 15
Director: Yulene Olaizola
Writers: Rubén Imaz, Yulene Olaizola
Starring: Indira Rubie Andrewin, Gilberto Barraza, Mariano Tun Xool 
Genre: Drama, Mystery
Runtime: 96 Minutes
Language: English/Spanish
Rating: 2.5 Stars
Trigger Warnings for: Sexual Abuse
1920, on the border between Mexico and Belize. Deep in the Mayan jungle, a lawless territory where myths abound, a group of Mexican gum workers cross paths with Agnes, a mysterious young Belizean woman. Her presence incites tension among the men, arousing their fantasies and desires. Filled with new vigor, they face their destiny, without knowing that they have woken up Xtabay, a legendary being that lurks in the heart of the jungle. – From IMDB
This was a little too artsy for my taste. A lot of long shots of landscapes and periods of silence, meant that the pace of this film was almost tediously slow. Throughout all of this time, the film does do a great job of building suspense and atmosphere, but sadly very rarely delivers on all of that build up. There is a lot of focus on the fear on the characters faces, but nothing horrific or really vaguely scary ever happens. The film is beautiful to look at don't get me wrong. The shots of the jungle and the lighting and all of that are jaw-droppingly gorgeous. I just think in this situation it is a case of style over substance.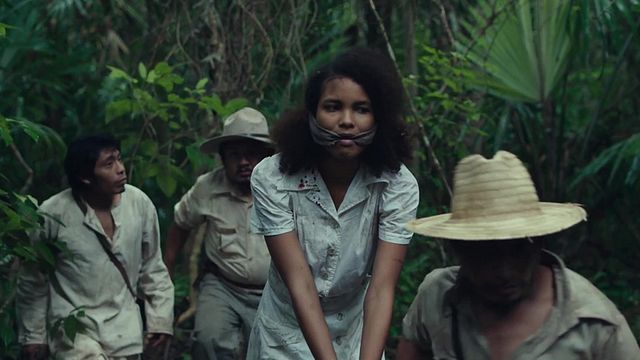 Agnes our main character has probably the least dialogue of any of the characters in the film, and is also a very passive character. Meaning that things happen to her, rather than because of something she does. These two factors combined means that really we don't get a good idea of who she is as a person. We know very little about her, so even though the film is meant to be ABOUT her, I ended up caring very little about what happened to her because there was no attachment to her character.
In short I spent a lot of this film a bit bored, a bit confused and found myself distracted my things going on around me, it just didn't keep me engaged.
To check this out for yourself, 'Tragic Jungle' is streaming on Netflix now!