Certificate: 18
Director: Leigh Janiak
Writer: Zak Olkewicz, Leigh Janiak
Starring: Sadie Sink, Ryan Simpkins, Emily Rudd
Genre: Horror, Slasher
Runtime: 109 Minutes
Language: English
RATING: 4 Stars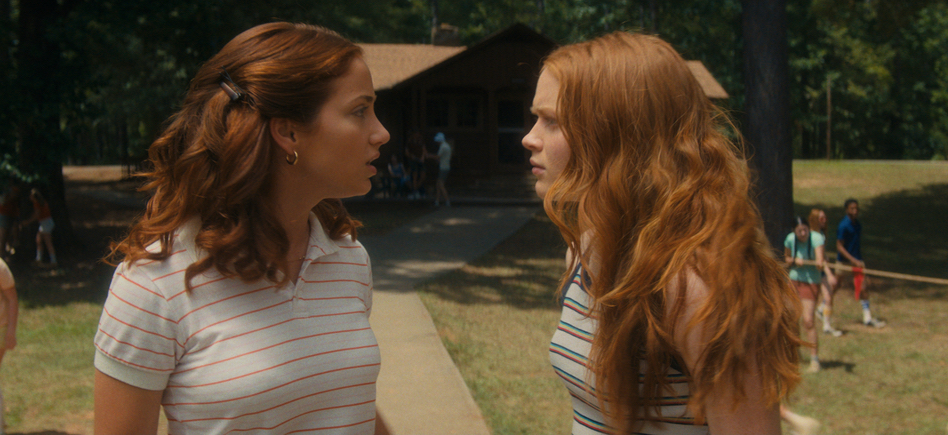 Shadyside, 1978. School's out for summer and the activities at Camp Nightwing are about to begin. But when another Shadysider is possessed with the urge to kill, the fun in the sun becomes a gruesome fight for survival. – From IMDB
This is really going to scratch that old school slasher movie itch for those of you who love those kinds of things, like me. The summer camp setting, the gory kills, the sex and skimpy outfits, all are very reminiscent of those 1970s/1980s slasher movies we watched as teenagers. And it is done brilliantly.
Sadie Sink has already proven her horror chops by starring in Stranger Things, and does just as brilliant a job here as Ziggy. As with all teen slasher films, as I mentioned in my review of Part 1 of this series, all the characters are over the top stereotypes of themselves. The bully isn't just mean, she is uber-mean, verging on sociopathic. The hippy isn't just chilled out, everything she does and says embodies what we all imagine hippies would have been like. It's part of the fun of these kinds of movies, but just once I wish we could be a little more imaginative with our characters.
This instalment gives us a great deal more information and lore surrounding the witch and her curse on Shadyside, and also a potential way in which the witch could be stopped. But for that grand climax I guess we have to stick around until next week. I love the world and the folklore that is created in these films, and the mystery that is surrounding it. I never read the book as a kid, but even now, as a fully grown adult, watching these movies is making me want to pick them up to immerse myself even more in this great story.
The twist at the end is pretty obvious, you don't cast Sadie Sink in a film for no reason, but I would advise not looking this film up on IMDB if you really want to be surprised by the ending, the cast list kind of gives away the twist. (They do this with Black Widow also, so I guess I have to add IMDB to my list of sites to avoid in order not to see spoilers! Come On guys!!) But we are left on a huge cliff hanger ahead of next weeks finale, which goes back to the origin of the story, and assumedly, will wrap up the Shadyside story. I cannot wait!
'Fear Street Parts 1 &2' are streaming on Netflix now!