Directors: Jake Castorena, Sam Liu
Writers: Peter Tomasi, Jerry Siegel, Joe Shuster
Stars: Jerry O'Connell(voice), Rebecca Romijn(voice), Rainn Wilson(voice)
RATING: 3.5 Stars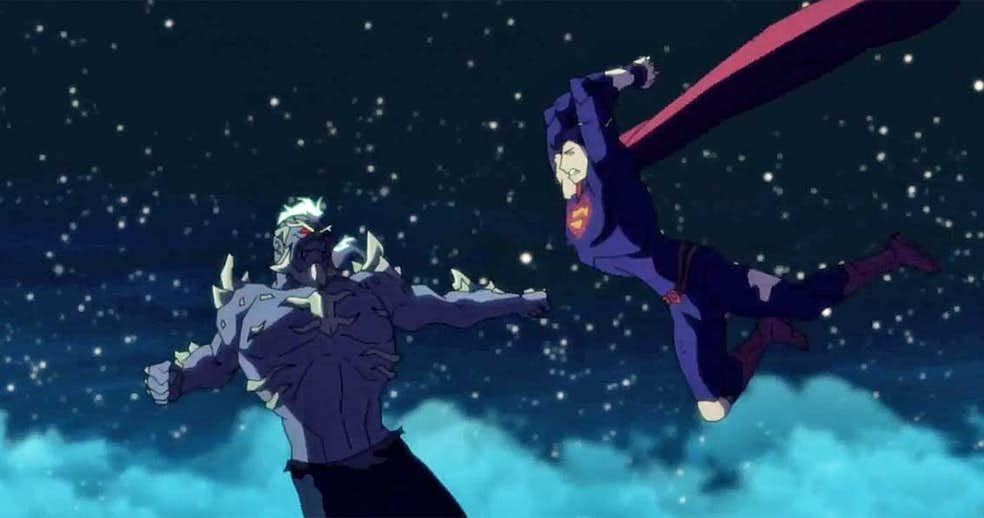 Superman battles against an insurmountable foe named Doomsday. – From IMDB
As the movie still above will testify, to truly enjoy this film, you have to look past the terrible animation style. In a world where we have such beautiful animations being made, how WB can get away with putting out animation like this is beyond me. There is enough mild swearing and sexual innuendo to make it clear that the dumbed down animation isn't because this is meant to be watched by little kids who wont give a toss as long as there are pretty colours, so really, do better Warner Brothers come on! But doesn't that really sum up how we feel about most DC things that Warner put out, it's like they want people to hate it.
However, horrible animation aside, there is a really great movie in there. The story is really interesting, even if like me you are not all that familiar with the original source material from the comic books. A good level of threat, even against one of the most overpowered superheroes there has ever been, and the film itself is well paced and engrossing. They manage to make both the superhero antics and Clarks personal struggles as important and as interesting as the superhero antics, something that the live action films often struggle with.
The voice cast is stacked, with a lot of really reliable actors in there. So it's no surprise that the voice performances are really pretty great. Cameos in there from Nathan Fillion and Jennifer Hale really made my nerd self smile with unadulterated glee.
Superman was my first foray into superheroes back in the nineties with Lois and Clark: The New Adventures of Superman, so I am always happy to sink back into those characters. This was a complete random whim of a watch and I am so glad I gave it a shot. If you are a fan of superheroes, I highly recommend giving it a go.